BE A BLUE BUDDY - a Colorectal Cancer Awareness Campaign colon cancer
Mission: To raise awareness and educate the community about colorectal cancer, the importance of screening and early detection; to give hope to newly diagnosed patients; and to save lives.
---
Grace De La Rosa is available as a guest speaker. She's worked with organizations such as:

Arlington Lions Club
Department of Labor & Energy
East Arlington Rotary Club
JEA (Jacksonville Electric Authority)
National Cancer Survivors Day (2014 keynote speaker)
Walk On: Cancer Support

** TESTIMONIALS **

As a member of the East Arlington Rotary, I was privileged to invite Ms. De La Rosa to speak on Colon Cancer Awareness. She presents her subject matter with an understanding that can only be attained through embracing her life as a survivor. Her knowledge of fact and her eloquent explanation of the disease, along with her very personal message, were very motivational. Thank you.
- Dr. Michelle Volland, Rotary Member, former President-Elect

Initially I did not plan to attend [the presentation], wrongly assuming that it might be a rehashing of information which I had already read or heard. "Helpful", "relevant" and "interesting" all come to mind when describing [Grace's colon cancer awareness presentation] to co-workers and friends.
- C. Costa, JEA Environmental Services

Yesterday's colon cancer awareness Lunch & Learn was one of the best yet. Grace was a wonderful speaker. Her personal story was a real eye opener. It would be great if we could get her back next year before/during colon cancer awareness month.
- D. Smith, JEA
---
March 2014 Campaign

---
MEDIA COVERAGE / SPEAKING ENGAGEMENTS

Oct. 10, 2013 - Mayo Clinic Proceedings, The Rise of Young Onset Colorectal Cancer: A Call to Action, video by Colon Cancer Alliance



March 9, 2014 - WNZF Radio, Living with Cancer, interviewed by Bob and CKay Streight of WalkOnSupport.com, 106.3FM, 1550 AM, and live at http://player.tritondigital.com/8461
Listen to Interview.






March 12, 2014 - Generation W, Guest Twitter Contributor, Cancer Support, #GenWChat





March 20, 2014 - Rotary Club of East Arlington, Guest Speaker






April 24, 2014 - Jacksonville Arlington Lions Club, Guest Speaker





Sept. 18, 2014 - National Colorectal Cancer Round Table (NCCRT) 2014 Blue Star Challenge Runner-Up.


Credit: Be a Blue Buddy logo design by Bernardo Santana III, EnFocus Media

I'm honored to win the 2014 National Colorectal Cancer Round Table (NCCRT) Blue Star Challenge! I will be donating the $3,000 charitable donation to Colon Cancer Alliance (CCA)'s Blue Hope Prevention Award, a financial assistance program for individuals and family members in need of colorectal cancer screenings.My sister shared a wonderful quote with me; a quote that truly tugs at my heart strings and reflects how I feel each and every time I can be of service to the colorectal cancer community, whether it's by corresponding with newly diagnosed patients or their family members through my online cancer journal, social media, or CCA's Buddy volunteer program...or by speaking with groups and organizations to help raise awareness and educate the public about colon cancer, the importance of screening and early detection.The quote below inspires me to continue doing what I thought was a one-time event this past March 2014 (National Colorectal Cancer Awareness Month)--advocating for screenings, educating about the colon cancer, the effects of the disease that I experienced, and what to expect when undergoing diagnosis, treatment and recovery. Giving hope. Saving lives. Because Screenings Save Lives.


I am so proud of my sister Grace De La Rosa's accomplishments!
- Gina V.

"People who really want to make a difference in the world usually do it, in one way or another. And I've noticed something about people who make a difference in the world: They hold the unshakable conviction that individuals are extremely important, that every life matters. They get excited over one smile. They are willing to feed one stomach, educate one mind, & treat one wound. They aren't determined to revolutionize the world all at once; they're satisfied with small changes. Over time, though, the small changes add up. Sometimes they even transform cities and nations, and yes, the world."
- Beth Clark, Author
---
STATE AND CITY SUPPORT

Feb. 11, 2014 - Mayor Alvin Brown proclaims Dress in Blue Day in Jacksonville, FL on Friday, March 7, 2014 in support of National Colorectal Cancer Awareness Month. View City Proclamation.


Feb. 12, 2014 - Governor Rick Scott proclaims March 2014 as National Colorectal Cancer Awareness Month and Dress in Blue Day on Fri., March 7, 2014 in the State of FL. View State Proclamation.



---
ONLINE PRESENCE

Be a Blue Buddy





The Be a Blue Buddy fundraising site is NOW LIVE through March 31, 2014! Raising funds to donate to Colon Cancer Alliance's Blue Note Fund, a financial assistance program to help colorectal cancer patients and their families in their time of need. I understand that not everybody can contribute financially, but you can still help. Please click on the link below and SHARE the page with your family, friends and colleagues.



---
UNITY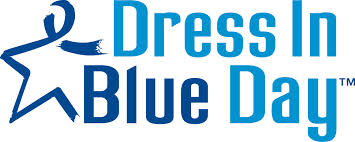 WEAR BLUE! National Dress in Blue Day is on the first Friday in March. Send photos of you and your group dressed in blue. I'd love to post them on the website and Facebook page!
+++
©No part of this website may be reproduced, stored in a retrieval system, or transmitted in any form or by any means - electronic, mechanical, photocopying, recording, or any other - without the written permission from the website author (content "owner").